When kids are busy they're not thinking about what foods they like and don't like. If you're prepared with a veggie-packed snack, it might get gobbled up quickly just for the sake of hurrying back to playing. Wrap these individually in foil for take-along snacks or lunch; or serve right away for a tasty dinner. Cut in half for little hands.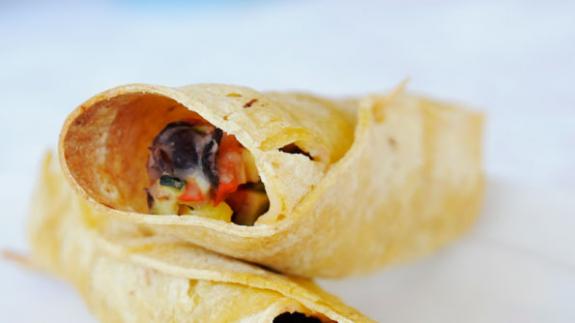 Preheat oven to 425˚. Put beans in a large bowl and mash slightly with a fork. Stir in cheese, corn, zucchini, and bell pepper. Set aside.

Heat tortillas until soft in a nonstick pan over medium heat. Place a large tablespoon of bean mixture down the middle of each tortilla. Roll up tightly, securing with a toothpick. Place taquito on a parchment-lined baking sheet and brush each with a little oil. Bake 10-15 minutes, until crispy. Remove toothpicks before serving.
Nutrition Facts
Crispy baked taquitos
Amount Per Serving
Calories 1103
Calories from Fat 18
% Daily Value*
Total Fat 2g 3%
Cholesterol 7mg 2%
Sodium 173mg 7%
Total Carbohydrates 17g 6%
Protein 4g 8%
* Percent Daily Values are based on a 2000 calorie diet.
PER SERVING (1): 103 cal, 2g fat (1g mono, 0g poly, 1g sat), 7mg chol, 4g protein, 17g carb, 4g fiber, 173mg sodium