This energizing recipe incorporates superfoods flaxseed and pomegranate into a smoothie that's ideal for a nutrient-rich quick breakfast or snack. Sprinkle with fresh pomegranate seeds for added color and a pleasant crunch.
Flaxseed and Pomegranate Smoothie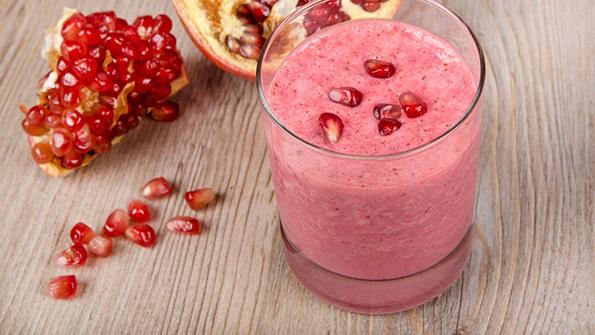 Pulse flaxseed in a spice grinder or coffee mill until finely ground. Place peaches, strawberries, juice, and yogurt in a blender. Add ground flaxseed and blend until smooth. Sweeten if desired.
Nutrition Facts
Flaxseed and Pomegranate Smoothie
Amount Per Serving
Calories 136
Calories from Fat 27
% Daily Value*
Total Fat 3g 5%
Cholesterol 4mg 1%
Sodium 43mg 2%
Total Carbohydrates 26g 9%
Protein 4g 8%
* Percent Daily Values are based on a 2000 calorie diet.
PER SERVING: 136 cal, 3g fat (0g mono, 1g poly, 0g sat), 4mg chol, 4g protein, 26g carb, 3g fiber, 43mg sodium