Whenever I make homemade hummus, the kids can predict what will be in their lunch boxes the next day: veggie rolls made with heaping scoopfuls of this creamy spread. With one of my kids already leaning toward becoming vegetarian, these tortilla roll-ups are a protein-packed, tasty lunchtime lifesaver.
Get my favorite Supereasy Hummus recipe in my new cookbook, Weelicious Lunches (William Morrow, 2013), or use whatever you find in your natural products store.
Weelicious Veggie Tortilla Roll-Ups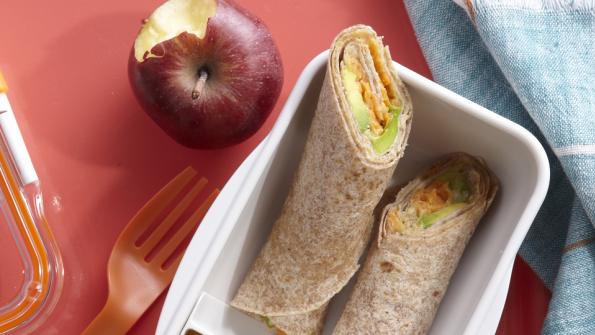 Spread 2 tablespoons hummus on each tortilla, taking care to cover the edges, since the hummus will act as a glue to hold the wrap together.

Sprinkle ¼ cup of the grated carrots along the closest edge of each tortilla, and lay a quarter of the avocado slices on top of the carrots.

Roll up, slice in half diagonally, and serve.