This dessert is a brilliant bowl of color with a pure, intense flavor. Ingredient tip: You may use frozen, thawed strawberries if necessary, but you might need to add more sugar.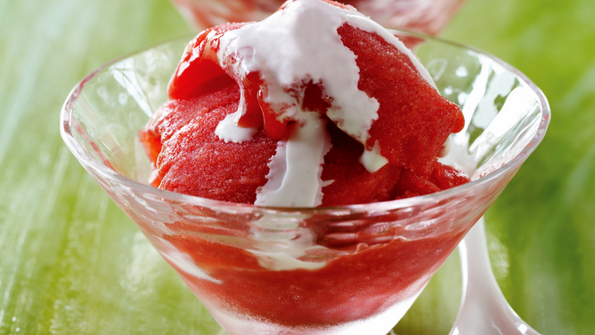 Gently wash and hull strawberries, then place in a food processor. Process until crushed. Working in batches, press purée through a fine sieve to extract seeds (discard seeds). Whisk powdered sugar and lemon juice into strawberry juice. It should seem a little too sweet and a little too sharp; both tastes will be muted slightly when frozen.

Pour purée into a bowl or large tub; ideally the mix should be no deeper than about 1 inch. Freeze until solid, at least 1 hour.

Remove from freezer 5 minutes before serving. Using a sturdy scoop or spoon, mound granita into goblets and cap each with a trickle of cream. The cream will solidify, semifrozen, like a snowcap on a pink mountain. Serve quickly, before it has time to melt.
Nutrition Facts
Strawberry Granita
Amount Per Serving
Calories 103
% Daily Value*
Cholesterol 7mg 2%
Sodium 3mg 0%
Total Carbohydrates 22g 7%
Protein 1g 2%
* Percent Daily Values are based on a 2000 calorie diet.
PER SERVING: 103 cal, 18% fat cal, 2g fat, 1g sat fat, 7mg chol, 1g protein, 22g carb, 2g fiber, 3mg sodium