Serving tip: Beautiful served in tall tumblers or champagne flutes with a long, thin peel of lemon zest swirling around. Use a barkeep's zesting tool to carve a curling slice of peel.
Rhubarb Lemonade Spritzer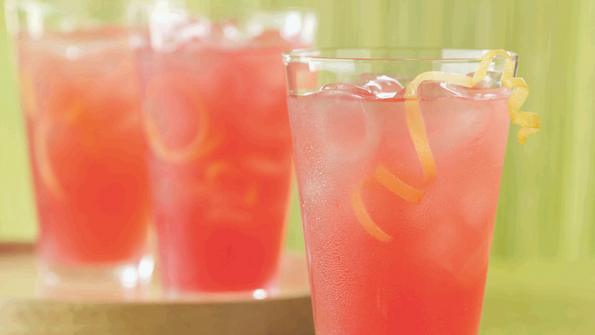 In a saucepan, bring water and sugar to a boil. Add rhubarb. Return to a boil, then simmer over low heat for 5 minutes. Add lemon zest and stir gently. Strain into a bowl, allowing pulp to drain for 10 minutes without pressing. Pour liquid into a pitcher and add lemon juice. Refrigerate at least 1 hour. (This can be made several days in advance.)

To serve, mix one portion syrup with an equal portion of unflavored sparkling water or a sparkling wine, such as Italian Prosecco.
Nutrition Facts
Rhubarb Lemonade Spritzer
Amount Per Serving
Calories 46
% Daily Value*
Sodium 4mg 0%
Total Carbohydrates 11g 4%
* Percent Daily Values are based on a 2000 calorie diet.
PER SERVING (½ cup mixed with 1/2 cup sparkling water): 46 cal, 2% fat cal, 0g fat, 0g sat fat, 0mg chol, 0g protein, 11g carb, 1g fiber, 4mg sodium