Chia seeds are packed with protein, fiber, antioxidants and calcium. Adding liquid gives the seeds a consistency similar to tapioca. Almond extract and fruit lend this meal a dessert-like flavor, without any added sugar.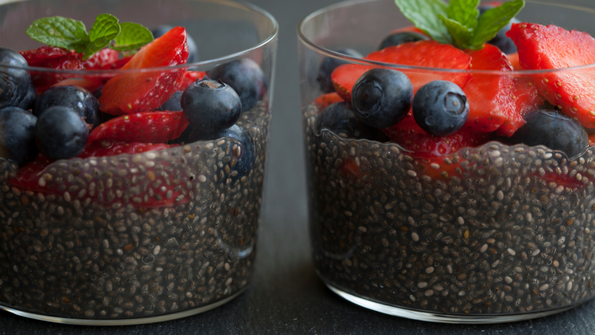 In a medium bowl, whisk chia seeds with almond milk, extract, cinnamon and dates until incorporated. Cover, and refrigerate overnight or at least 4 hours. Stir well.

Spoon into bowls, and top with fruit, nuts and coconut. Chia pudding is best fresh but can be refrigerated for up to 3–4 days.
Nutrition Facts
Fruit-Topped Chia
Amount Per Serving
Calories 12330
Calories from Fat 153
% Daily Value*
Total Fat 17g 26%
Sodium 65mg 3%
Total Carbohydrates 43g 14%
Protein 6g 12%
* Percent Daily Values are based on a 2000 calorie diet.
PER SERVING (½ cup): 330 cal, 17g fat (4g mono, 8g poly, 5g sat), 0mg chol, 65mg sodium, 43g carb (13g fiber, 27g sugars), 6g protein