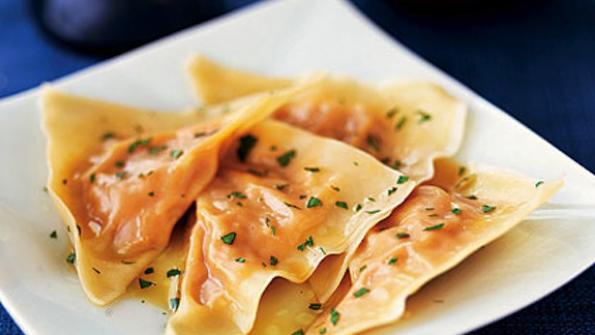 Tomato-Basil Pasta

see link below

1/3

cup

pitted prunes

2

tablespoons

warm water

½

cup plus 2 tablespoons

extra-firm tofu, drained

1

cup

pumpkin puree, canned or fresh and cooked

1

tablespoon

raw honey

¼

teaspoon

nutmeg

1

teaspoon

Bragg Sprinkle (24 herbs & spices)

2

tablespoons

Bragg Olive Oil, divided

All-purpose flour
Tomato-Basil Pasta

see link below

1/3

cup

pitted prunes

2

tablespoons

warm water

½

cup plus 2 tablespoons

extra-firm tofu, drained

1

cup

pumpkin puree, canned or fresh and cooked

1

tablespoon

raw honey

¼

teaspoon

nutmeg

1

teaspoon

Bragg Sprinkle (24 herbs & spices)

2

tablespoons

Bragg Olive Oil, divided

All-purpose flour

Print Recipe
Prepare one Tomato-Basil Pasta recipe (see link below).

Combine pitted prunes and 2 tablespoons warm water in a food processor or blender. Pulse until puréed.

Leave 3 tablespoons puree in food processor or blender (remove remainder for another use). Add tofu and pumpkin; blend. Add honey, nutmeg, Bragg Sprinkle, and 1 tablespoon olive oil; process until smooth.

Roll out 2 large sheets of Tomato-Basil Pasta. On one sheet, place filling by teaspoonfuls at regular intervals. Cover with second sheet. Using thumbs, gently press down spaces between mounds. Dip rim of a 3-inch-diameter glass into flour. Invert glass and press around mounds to cut out ravioli. Seal edges of each ravioli by pressing with a fork. (May be made 1 day ahead.)

To cook, bring a large pot of water and remaining 1 tablespoon oil to boil. Add ravioli and cook 10 minutes, stirring occasionally.
Note: This recipe has not been tested in the Delicious Living kitchens.