Prep tip: Prepare these late in the afternoon on serving day. Keep tightly covered, ready in the pan for last-minute heating.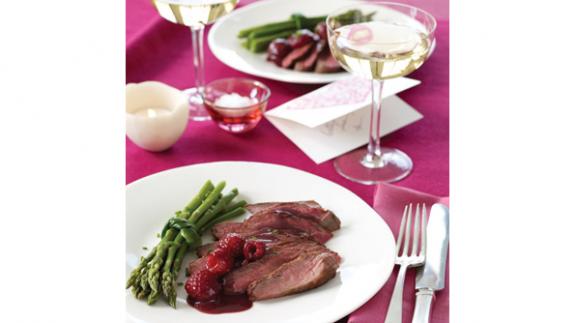 Bring a large pot of salted water to a boil. Drop green onion into pot. Count off 10 seconds, then scoop it out and plunge into cold water. Place on a towel to drain. Add asparagus to boiling water and cook until just tender, 2-4 minutes. Remove with tongs and plunge into cold water. Drain on a towel.

Place butter in a skillet and melt over low heat. Remove from heat and add asparagus, rolling gently to coat. Add salt, chives, and a quick grind of pepper, tossing to distribute. Allow to cool completely.

Carefully pull off the two outermost green onions layers. Lay one strip on a work surface and place half the asparagus spears across it. Gather ends of strip and tie a nice knot, forming a tight little bundle. Repeat with second strip and asparagus. Return bundles to pan and cover. At serving time, add 1 tablespoon water to pan, cover, and reheat.
Nutrition Facts
Asparagus Bundles
Amount Per Serving
Calories 37
% Daily Value*
Cholesterol 5mg 2%
Sodium 158mg 7%
Total Carbohydrates 4g 1%
Protein 2g 4%
* Percent Daily Values are based on a 2000 calorie diet.
PER SERVING: 37 cal, 43% fat cal, 2g fat, 1g sat fat, 5mg chol, 2g protein, 4g carb, 2g fiber, 158mg sodium