Scoop up plenty of this appetizer with pita wedges. You can also use this recipe with a pinch of oregano as a pasta sauce.
Hydration factor: Tomatoes and bell peppers are more than 90 percent water and each make for great summer snacking on their own. Roasting these red beauties brings forth their sweetness and makes for a refreshing appetizer that can be prepared up to 2 days ahead.
Grilled Red Pepper and Tomato Spread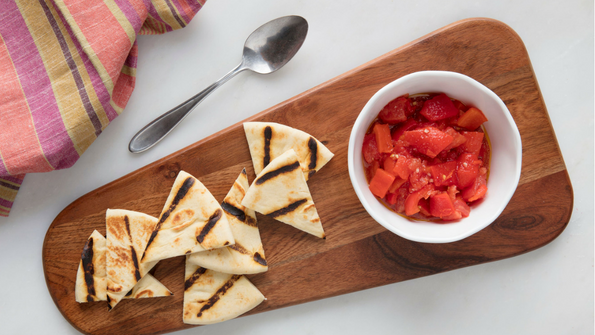 Grill or flame-roast the bell peppers and tomatoes. After removing from flame or heat source, place produce in a paper bag and seal. After 5-10 minutes, the skins will peel off easily. Peel and seed peppers and tomatoes. Slice and chop into small cubes and place in a bowl.

Add garlic, lemon juice and oil to bowl; mix. Taste and season with additional salt as needed. Refrigerate until serving.

Serve cold with lightly toasted or grilled pita wedges for dipping.
Nutrition Facts
Grilled Red Pepper and Tomato Spread
Amount Per Serving
Calories 71
Calories from Fat 18
% Daily Value*
Total Fat 2g 3%
Sodium 202mg 8%
Total Carbohydrates 11g 4%
Protein 2g 4%
* Percent Daily Values are based on a 2000 calorie diet.
Serves 12 (makes 3 cups). Vegan, Dairy free
PER SERVING (¼ cup spread): 71 cal, 2g fat (2g mono, 0g poly, 0g sat), 0mg chol, 202mg sodium, 11g carb (3g fiber, 7g sugars), 2g protein