Makes 18-20 / These chewy and luscious confections are perfect for afternoon tea and make a beautiful addition to any gift plate.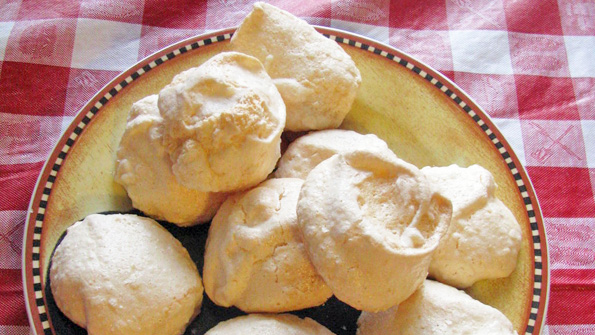 Preheat oven to 350°F. Line two baking sheets with parchment paper.2. In blender, chop 1 cup almonds with 1/2 cup maple sugar until finely ground. Transfer to medium bowl. Stir in flour, zest and nutmeg.

In second medium-large bowl, using a mixer, whisk egg whites, salt and remaining 1/4 cup sugar until soft, glossy peaks form, about 3-5 minutes. Fold mixture gently into dry ingredients until just blended.

Spoon level tablespoons of dough onto prepared sheets, about 2 inches apart. Decorate cookies with remaining almond slices. Bake at 350°F until lightly browned around edges, about 12 minutes.

Transfer cookies, still on parchment paper, to damp towel until cookies can be peeled off easily, about 5 minutes.
Nutrition Facts
Orange-Lemon Meringues
Amount Per Serving
Calories 78
* Percent Daily Values are based on a 2000 calorie diet.
Photography by: Laurie Smith
Calories 78,Fat 4,Perfat 49,Cholesterol 0,Carbo 8,Protein 2,Fiber N/A,Sodium N/A