(photo by Jennifer Olson)
The combination of mango and coconut is not only delicious and refreshing, it's an Ayurvedic concoction, helping to nourish both the mind and body.
Gluten free, dairy free, vegan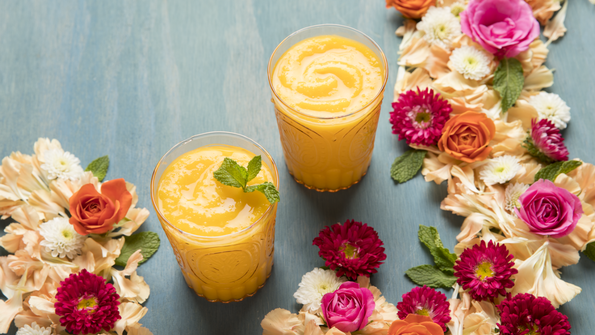 In a blender, combine mango and coconut water. Squeeze lime juice into the blender; blend until smooth. Garnish with fresh mint.
Nutrition Facts
Mango Coconut Smoothie
Amount Per Serving
Calories 9124
Calories from Fat 9
% Daily Value*
Total Fat 1g 2%
Sodium 120mg 5%
Total Carbohydrates 30g 10%
Protein 2g 4%
* Percent Daily Values are based on a 2000 calorie diet.
PER SERVING (9 ounces): 124 cal, 1g fat (0g mono, 0g poly, 0g sat), 0mg chol, 120mg sodium, 30g carb (4g fiber, 26g sugars), 2g protein