Natural foods stores and farmers' markets often carry a colorful variety of peppers, many of them mild and sweet. I like to mix the pepper colors in this dish, using supersweet red lipsticks, yellow corno di toro or banana peppers, and light green Armenian peppers. None of these are hot, but you could add the heat of a jalapeño if you like a kick.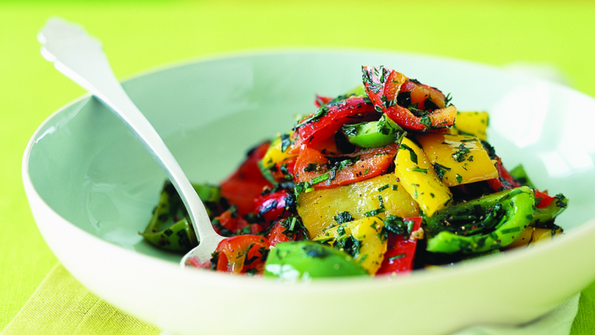 Stem and seed peppers, cutting them into large 1- or 2-inch pieces. Make a rough chop of the parsley, basil, and chives. Mince garlic.

Over high heat, add oil to a sauté pan. Put in all the peppers at once and stir every minute or so as they cook for about 5 minutes. When they wilt slightly, add garlic, cooking 1 minute more. Toss in all herbs, salt and pepper to taste, and turn off heat. Let herbs cook from the pan heat and add the lemon juice to finish.
Nutrition Facts
Pepper and Herb Stir-Fry
Amount Per Serving
Calories 139
% Daily Value*
Sodium 14mg 1%
Total Carbohydrates 18g 6%
Protein 3g 6%
* Percent Daily Values are based on a 2000 calorie diet.
PER SERVING: 139 cal, 44% fat cal, 7g fat, 1g sat fat, 0mg chol, 3g protein, 18g carb, 5g fiber, 14mg sodium