This sweet treat is packed with immune-enhancing green tea, oranges, lemons, and ginger. And it's a great way to soothe a dry throat. For kids, try making it with decaffeinated tea and freezing the mixture in Popsicle molds.
Green Tea Granita with Ginger and Citrus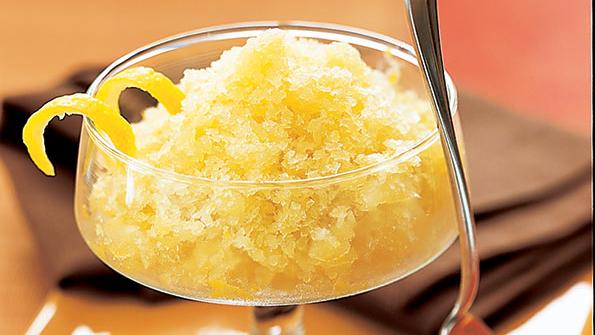 Heat water to nearly boiling. Steep tea bags in hot water for 2 minutes. Discard bags and let tea cool.

Press minced ginger through a clean garlic press, catching ginger juice in a medium bowl. Discard remaining ginger solids.

Add cooled tea and remaining ingredients to ginger juice; stir. Adjust sweetness if necessary. Pour mixture into an 8x8-inch shallow pan and place in freezer. Fluff ingredients with a fork every 30 minutes or until the mixture is icy and fluffy, about 2-1/2 hours.
Nutrition Facts
Green Tea Granita with Ginger and Citrus
Amount Per Serving
Calories 79
* Percent Daily Values are based on a 2000 calorie diet.
Nutrition Facts Per Serving: Calories: 79 calories, % fat calories: 2, Fat: 0g, Saturated Fat: 0g,Cholesterol: 0mg,Protein: 1g,Carbohydrate: 21g,Fiber: 0g, Sodium: 2mg