Sweet, buttery squash laced with maple syrup and vanilla makes a special side dish for almost any meal. Add a pat of butter to each squash half before cooking for an even richer flavor.
Maple-Glazed Acorn Squash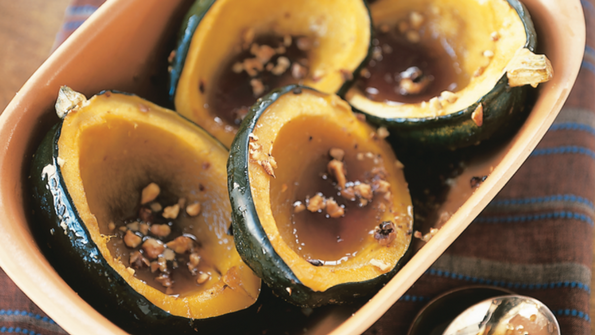 Soak top and bottom of a clay cooker in water for 15 minutes. Drain.

Drizzle cut surfaces of squash with maple syrup and sprinkle with vanilla. Arrange squash in cooker.

Place covered pot in cold oven and turn oven to 400 °. Cook for 1 hour, or until squash is soft. Serve hot.
Nutrition Facts
Maple-Glazed Acorn Squash
Amount Per Serving
Calories 100
* Percent Daily Values are based on a 2000 calorie diet.
Calories 100,Fat 0,Perfat 2,Cholesterol 0,Carbo 23,Protein 2