For this recipe, you'll need a cast-iron or other grill-safe skillet that's large enough to hold everything. This cooks very fast, so have the table set, the salad made, and everything ready to go before grilling. (You can also cook this on the stove over medium-high heat.) Serve with whole-grain bread to sop up the tasty broth.
How to choose and clean mussels
Choose only tightly closed, whole shells; remove any broken, chipped, damaged, or open mussels. Soak in fresh water for 20 minutes. As the mussels breathe, the sand and salt will fall away. Some mussels may have byssal threads, or "beards," that show up after soaking. Pull on the beards toward the hinge (not toward the opening), and pull out any hanging threads.
Grilled Mussels in Fire-Roasted Tomato Sauce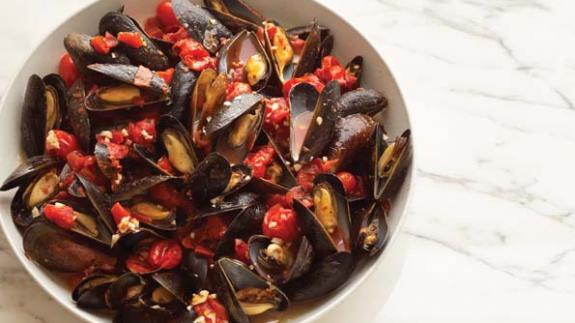 Preheat grill; place empty skillet inside. Close lid and heat for 10 minutes.

Add garlic, wine, and water to skillet. Let simmer until reduced by half (depending on heat, this may take less than a minute). Add cherry and canned tomatoes, plus red pepper flakes; close grill lid. When liquid boils (30 seconds) add mussels. Cover grill and cook for 8–10 minutes. Mussels are done when they open. Discard any unopened mussels. Serve in large shallow bowls.
Nutrition Facts
Grilled Mussels in Fire-Roasted Tomato Sauce
Amount Per Serving
Calories 238
Calories from Fat 36
% Daily Value*
Total Fat 4g 6%
Cholesterol 63mg 21%
Sodium 661mg 28%
Total Carbohydrates 14g 5%
Protein 28g 56%
* Percent Daily Values are based on a 2000 calorie diet.
PER SERVING: 238 cal, 4g fat (1g mono, 1g poly, 1g sat), 63mg chol, 28g protein, 14g carb, 1g fiber, 661mg sodium