Feel deprived no longer with this delicious GF take on a classic comfort food.
Gluten-Free Southern Buttermilk Fried Chicken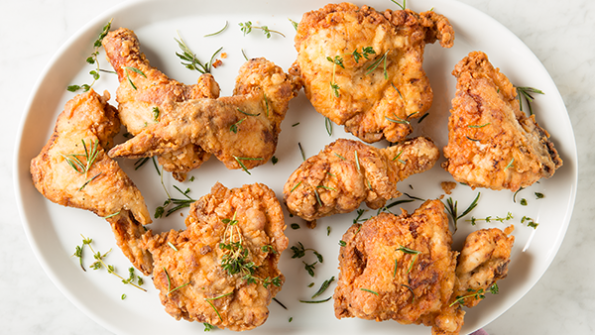 Place chicken and buttermilk in a large zip-top bag. Seal bag and refrigerate for 4 hours.

In one bowl, whisk together 1 1/2 cups rice flour, 1 1/2 teaspoons salt, 1 teaspoon pepper and the cayenne. In another bowl, whisk milk and egg. In a large bowl, whisk tapioca starch, remaining 2 cups flour, remaining 1 teaspoon salt, and remaining 1/2 teaspoon pepper.

Drain chicken, discarding buttermilk. Dredge a piece of chicken in rice flour mixture (without tapioca starch), dip into milk mixture, then dredge in tapioca starch mixture. Transfer chicken to a rimmed baking sheet. Repeat with remaining pieces. Sprinkle about 1/4 cup of remaining tapioca starch mixture over pieces to ensure they're thoroughly coated and let them rest for 5 minutes. It will look like there is too much flour mounded on top of the chicken. Shake pieces slightly before adding to oil.

In a large heavy skillet, heat 1 inch vegetable oil over medium heat to 320°. Set a wire rack over a clean rimmed baking sheet. Place herb sprigs in hot oil and fry for 2 minutes. Remove herbs with a slotted spoon and set aside.

Working with half the chicken at a time, carefully place pieces in hot oil. Fry, turning often, for 13 to 15 minutes, or until cooked through and juices run clear. Maintain a frying temperature of 315° to 325°. Drain chicken on wire rack. Repeat with remaining pieces. Top chicken with crispy herb sprigs before serving.