These make-ahead morning meals are a lot better than toast and OJ on a tray!
Nothing says "you have a special place in my heart" like a stack of fluffy pancakes. But making a fancy breakfast takes time … and Mom doesn't want you spending all your time at the stovetop when you're meant to be spending time with her!
The solution? Preparing most of your breakfast eats in advance. Try one (or all) of these nutritious, forward-thinking breakfast and brunch recipes that prove the best Mother's Day meal is the one you've already made.
"Mom doesn't want you spending all your time at the stovetop when you're meant to be spending time with her!"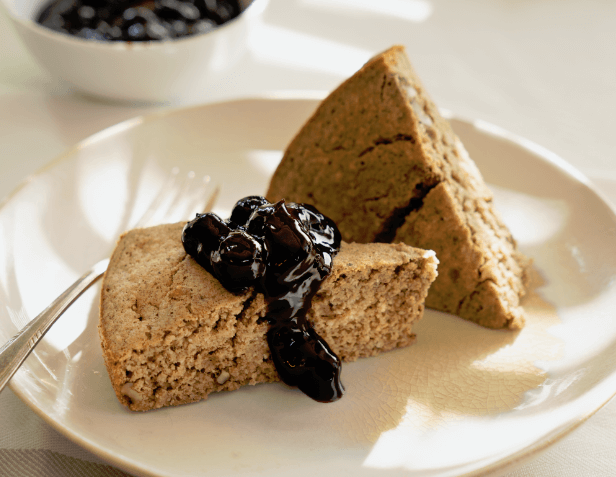 Forget flipping individual flapjacks; this Banana Pancake Pie with Zesty Blueberry Sauce lets you get everything on the table at once. It's perfect for languid weekends, and wedges of the pie and servings of blueberry sauce both reheat well for busy weekday breakfasts. For the most banana flavor, you'll want to use fruit with plenty of brown spots on the skin. Almond flour infuses the pancake pie with a nutty taste, but if it's not available, you can replace it with more oat flour.
Cause a stir – Always mix pancake batter gently by hand (not with an electric mixer). Overmixing the batter yields less tender results. Simply stir together the wet and dry ingredients with a wooden spoon until no big powdery lumps remain.
Huevos rancheros (rancher's eggs) are a typical breakfast served at Mexican farms and usually feature tortillas and eggs adorned with salsa. Here's another way to do the dish. Bundling up ingredients and baking them into individual Huevos Rancheros Cakes makes it easy to serve a satisfying early-day meal in a flash.
Eggs-pert advice – Eggs are kind of like nature's cement. So when making mini-frittatas and other egg-based items, consider using a silicone muffin pan. It's nonstick and bendable, which makes unmolding a breeze—without the need for greasing or using paper liners.
With this Carrot Cake Oatmeal Loaf with Maple-Braised Apple, you don't need to hover over a pot of simmering grains in the morning to serve up oatmeal. Grated carrot adds moisture, while the tender apple topping shows you're willing to go to the extra effort to satisfy Mom's palate. Both the loaf and apple topping can be made up to three days in advance. If Mom's following a gluten-free diet, use oats and oat flour that are certified gluten free.
Pliable parchment – To make parchment paper easier to fit into a baking pan, simply crunch up a piece, run it under water for a few seconds, and then wring out the excess liquid. The soaked paper will now effortlessly mold to the shape of the pan.