Those few hours between breakfast, lunch, and dinner can feel like centuries when your stomach is growling. And no parent enjoys dealing with kids who are deep into a bout of hanger. This is why so many of us make it a habit of snacking throughout the day and welcoming the brood home from school with a tasty treat.
Smart snacking can mean the difference between feeling energetic or fatigued and strengthening or chiseling away at your immune system. Plus, proper snacking can help deliver the nutrients and antioxidants children need to properly develop, both physically and mentally.
Too often, though, the between-meal nibbles that kids (and adults!) choose are nutritional duds, full of empty calories, which is precisely why snacking has such a bad rap as a healthy eating dead-end. Snack flack is a thing. But silencing hunger pangs can come with health benefits when you take a DIY approach and make your own snacks using more nourishing ingredients.
While fruit or a handful of nuts always make great snack options to stave off an energy crash, sometimes all generations of a household yearn for something a little more creative and exciting. Sliced peppers and hummus are a wonderful choice but tend to get stale quickly. To prevent a snack slump, why not think beyond the granola bars and bowls of yogurt by trying creative recipes that breathe new life into your snacking ritual?
When your household is craving something sweet or savory to tide everyone over to the next meal, these make-ahead wee-eats will earn you the Snack Master crown!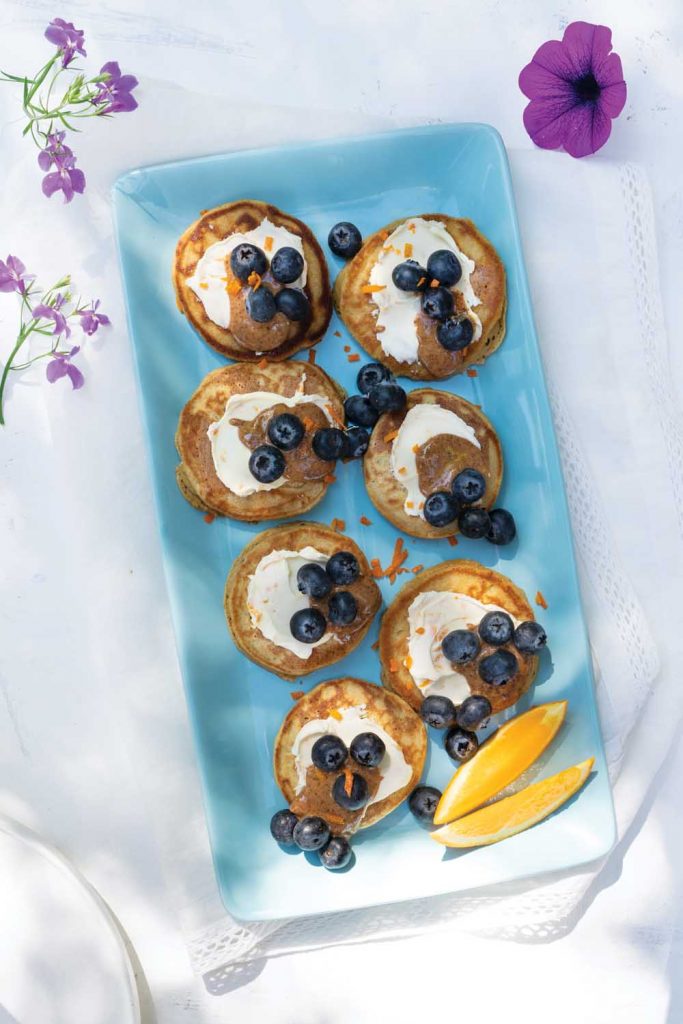 Snack stacks
Yes, snacking can play a role in a well-balanced nutritious diet. In a study published in the journal Nutrients, snacks were found to help contribute to people's intake of several key nutrients, including magnesium, potassium, vitamin C, and fiber. Here's the formula on how to create winning between-meal nibbles.
Plan ahead
The key to making homemade healthy snacks instead of relying on the packaged stuff is to create a dedicated window of time, maybe on a weekend, to prep batches. When appropriate, get your kids involved in the process of prepping make-ahead snacks.
Focus on "real food"
People hear the word "snack" and think it comes out of a bag or a box. Not the case! Instead, think of a snack as a mini-meal instead of a treat. That way you'll automatically be including more wholesome ingredients. After all, how often do you consider serving greasy chips and sugary bars for dinner?
Practice restraint
To keep calorie intake in check, most adults and kids should cap their snack frequency at two times a day, which can increase to three times for very active snackers who can benefit from a few more calories. In general, no more than 25 percent of your daily calories should hail from between-meal eats. Light grazing is the name of the game.
Seek out P&F
Snacks with some protein and fiber have greater staying power within fewer calories to help thwart cupboard cleanout.
Veg out
Despite best intentions, most adults and children fail to get enough veggies into their daily diets. To have a better chance of nailing the daily quota, look for ways to incorporate colorful vegetables into a snack routine.
Sweet and savory
Too often, snack time is dominated by sweetness. To help balance out tastes for better nutrition, try including at least one savory snack into a day's menu. For instance, you could have a sweet-tasting snack in the morning and a savory option between lunch and dinner.
Hydrate as you go
Snacking is an opportune time to get some much-needed liquid into your system. Coupling your snack with a glass of water or cup of tea helps you stay hydrated and also helps you view snacking as more of a complete mini-meal package.