Avocado toast has got to be the trendiest meal around. Packed with good fat, fiber and vitamins and paired with whole-grain bread, it's filling and healthy.
Rather than the same combo every day, try some flavorful twists.
(staff favorite)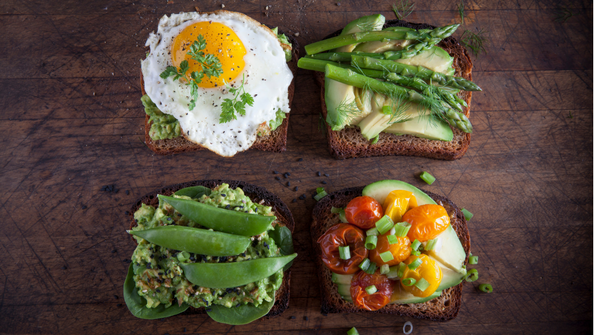 Spinach, avocado and snap peas wih Japanese Rice Seasoning: Layer spinach leaves on toast; then spread with half a mashed avocado. Sprinkle 1 teaspoon Japanese rice seasoning (made with bonito flakes, sesame and soy) over the avocado. Top with ¼ cup blanched or raw sugar snap peas.

Asparagus, dill and sliced avocado: Slice ½ avocado onto toast; add blanched asparagus, chopped fresh dill, salt and pepper.

Fried egg, avocado and fresh herbs: Mash ½ avocado, and spread on whole-wheat toast. Add a fried egg, 1 tablespoon of your favorite fresh herbs (such as chopped parsley, chives or basil), salt and pepper.

Roasted cherry tomatoes with avocado and green onions: Preheat oven to 325˚. Toss a pint of cherry tomatoes with ½ tablespoon olive oil. Place on a baking sheet; season and bake for 20 minutes. Slice ½ avocado onto toast, and cover with sliced green onion and about 6 roasted cherry tomatoes. Season with salt and pepper. (Save extra tomatoes for later.)
Nutrition Facts
Beyond Avocado Toast
Amount Per Serving
Calories 227
Calories from Fat 9090
% Daily Value*
Total Fat 1010g 1554%
Sodium 286286mg 11929%
Total Carbohydrates 2626g 875%
Protein 7g 14%
* Percent Daily Values are based on a 2000 calorie diet.
PER SERVING (Spinach, avocado and snap peas with Japanese Rice Seasoning): 227 cal, 10g fat (7g mono, 2g poly, 2g sat), 0mg chol, 286mg sodium, 26g carb (8g fiber, 2g sugars), 7g protein
PER SERVING (Asparagus, dill and sliced avocado): 203 cal, 11g fat (7g mono, 2g poly, 2g sat), 0mg chol, 322mg sodium, 23g carb (8g fiber, 1g sugars), 5g protein
PER SERVING (Fried egg, avocado and fresh herbs): 263 cal, 15g fat (9g mono, 3g poly, 3g sat), 186mg chol, 392mg sodium, 21g carb (6g fiber, 0g sugars), 10g protein
PER SERVING (Roasted cherry tomatoes with avocado and green onions): 229 cal, 13g fat (9g mono, 2g poly, 2g sat), 0mg chol, 171mg sodium, 24g carb (7g fiber, 3g sugars), 5g protein