Thai-Style Red Curry with Red Potatoes and Peas over Quinoa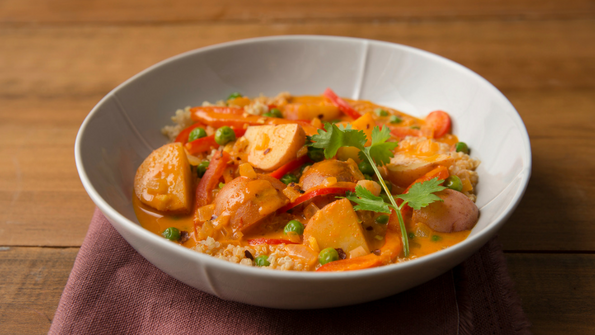 Recipe by Amy Palanjian
1½

cups

uncooked quinoa

1

(14.5-ounce) can

coconut milk

3

tablespoons

Thai red curry paste

3

tablespoons

fresh lime juice

1

tablespoon

coconut oil or olive oil

1

small white onion, chopped (about 1 cup)

¼

teaspoon

salt

2

cloves

garlic, minced

1

tablespoon

finely grated fresh ginger (from a 1-inch piece)

1

pound

baby red potatoes, washed and quartered or cut into eighths

1

large red bell pepper, seeds and stem removed, cut into thin strips

2

cups

frozen petite peas

Fresh basil or cilantro for garnish (optional)

Red pepper flakes, Sriracha or chili-garlic sauce (optional)
1½

cups

uncooked quinoa

1

(14.5-ounce) can

coconut milk

3

tablespoons

Thai red curry paste

3

tablespoons

fresh lime juice

1

tablespoon

coconut oil or olive oil

1

small white onion, chopped (about 1 cup)

¼

teaspoon

salt

2

cloves

garlic, minced

1

tablespoon

finely grated fresh ginger (from a 1-inch piece)

1

pound

baby red potatoes, washed and quartered or cut into eighths

1

large red bell pepper, seeds and stem removed, cut into thin strips

2

cups

frozen petite peas

Fresh basil or cilantro for garnish (optional)

Red pepper flakes, Sriracha or chili-garlic sauce (optional)

Print Recipe
In a medium pot, combine quinoa and 3 cups water. Bring to a simmer over medium heat, and simmer until water is absorbed and quinoa is soft and clear, 12–15 minutes.

In a bowl, combine coconut milk, red curry paste, lime juice and ¼ cup water.

In a large skillet over medium, heat the oil. Add onion and salt, and cook, stirring often, until onion has softened and turns translucent, about 8 minutes. Add garlic and ginger, and cook an additional 2 minutes. Add potatoes, red pepper strips and coconut-milk mixture. Bring to a simmer, reduce heat to medium-low, and cover. Cook for 15 minutes or until potatoes are soft when poked with a fork. Stir in peas and cook 2 minutes more.

Serve curry mixture over quinoa with fresh herbs and optional toppings.