Reminiscent of frozen lemonade, but for grownups. This can also be mixed with tequila for an afternoon happy hour — we won't tell. Prep tip: To make ginger juice, grate fresh ginger, skin and all, onto a plate, gather into a mound, then squeeze with fingertips to extract juice. For 1 tablespoon juice, you'll need about 3 inches fresh ginger. Or use bottled ginger juice, available in natural foods stores.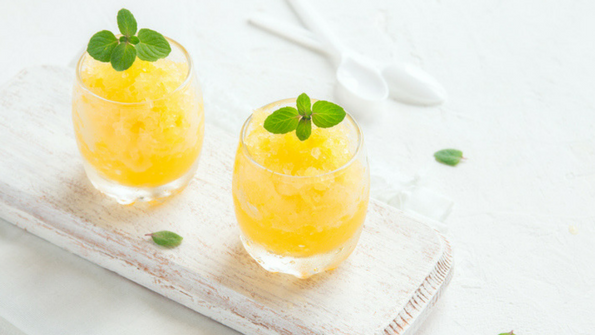 In a small saucepan, combine water and sugar and bring to a boil. Cook until sugar dissolves, about 5 minutes. Remove from heat and stir in lemon juice, zest, and ginger juice. Cover and refrigerate for at least 2 hours, until completely cold.

Pour mixture into a cold ice-cream maker and freeze about 20 minutes. Add crystallized ginger and continue freezing 10 more minutes, until slushy. Serve, garnished with mint. (If making ahead, transfer to a freezer-safe container.)
Nutrition Facts
Lemon Ginger Slush
Amount Per Serving
Calories 154
% Daily Value*
Sodium 5mg 0%
Total Carbohydrates 39g 13%
* Percent Daily Values are based on a 2000 calorie diet.
PER SERVING: 154 cal, 0% fat cal, 0g fat, 0g sat fat, 0mg chol, 0g protein, 39g carb, 0g fiber, 5mg sodium