More often than not, strawberries lack the magical flavor of homegrown, especially if they've been shipped from afar. Here's a way to improve them. Once you have a bowlful, use them wherever you like strawberries—on cereal, in shortcake, over ice cream, in a crepe. I like to spoon them over ricotta and drizzle with extra honey.
Strawberries with Lemon and Honey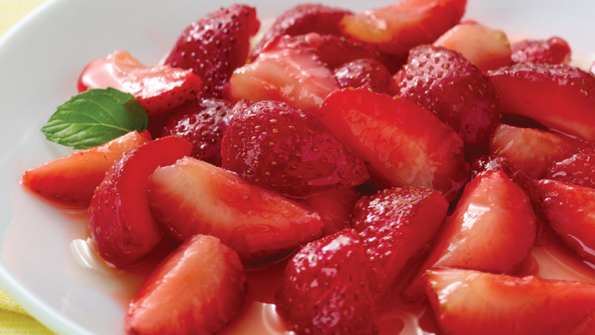 Quickly rinse berries; then turn onto a clean towel and blot dry. Remove stems. Slice into quarters or however you wish. Drizzle honey and lemon juice over them, turn a few times with a rubber scraper, and then cover and refrigerate for 30 minutes or up to a few hours. The juices will run and the fruit will taste surprisingly better.
Nutrition Facts
Strawberries with Lemon and Honey
Amount Per Serving
Calories 70
% Daily Value*
Sodium 1mg 0%
Total Carbohydrates 18g 6%
Protein 1g 2%
* Percent Daily Values are based on a 2000 calorie diet.
PER SERVING: 70 cal, 0g fat (0g mono, 0g poly, 0g sat), 0mg chol, 1g protein, 18g carb, 2g fiber, 1mg sodium