You are probably most familiar with the slow-cooked collards of the South, a treatment that yields delicious greens but fails to celebrate their inherent brightness. I prefer a quick sauté; shred the leaves as thinly as you can, and they will cook in no time. I like to serve a mound of these collards topped with an over-easy egg for breakfast. This sauté works equally well with other greens, such as kale or kohlrabi greens. If you prefer softer greens, add a few minutes to the cooking time or cover the pan, remove it from the heat, and steam them for 5 minutes.
Recipe reprinted with permission from Brassicas: Cooking the World's Healthiest Vegetables by Laura B. Russell (Ten Speed Press, 2014). Photo credit: Sang An.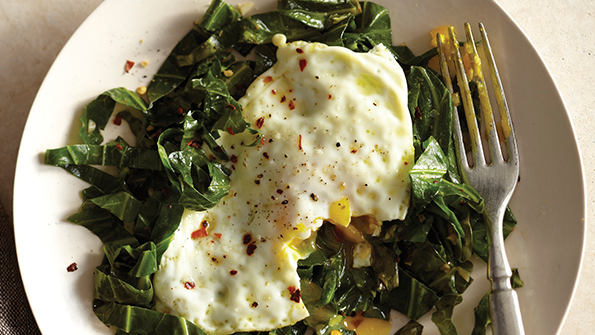 Stack collard leaves, roll them up lengthwise into a tight cigar shape, and, using a chef's knife, cut crosswise into very thin shreds. Rinse well and spin them dry. (You can rinse the greens before or after shredding; I prefer to rinse them after.)

Unless you have an extremely large pan, plan to cook the collards in two batches. They will cook down significantly, though not as much as spinach. Heat half of the oil in a large (12 inches or wider), deep frying pan over medium heat. Add half of the garlic and cook, stirring, for about 30 seconds, until fragrant. Add half of the collards and turn them with tongs to coat with the garlicky oil. (You may need to add the greens in batches and let the first batch wilt before adding more.) Stir in half of the red pepper flakes and 1/4 teaspoon of the salt. Cook greens, turning them occasionally, for 3–4 minutes, until wilted. Transfer to a serving bowl and repeat with remaining oil, garlic, greens, red pepper flakes, and salt. Serve hot or at room temperature.
Nutrition Facts
Quick Collards Sauté
Amount Per Serving
Calories 98
Calories from Fat 63
% Daily Value*
Total Fat 7g 11%
Sodium 216mg 9%
Total Carbohydrates 7g 2%
Protein 3g 6%
* Percent Daily Values are based on a 2000 calorie diet.
PER SERVING: 98 cal, 7g fat (3g mono, 3g poly, 1g sat), 0mg chol, 3g protein, 7g carb, 4g fiber, 216mg sodium