One of Summer's greatest pleasures is cooking outside over an open flame. But rather than centering meals on a big hunk o' meat, freshen up your grilling season by prioritizing garden-picked produce. Seasonal fruits and vegetables benefit immensely from direct heat because the natural sugars caramelize into deep-sweet succulence, while fibrous picks like plantains and mushrooms mellow and soften. Get 'em while they're hot!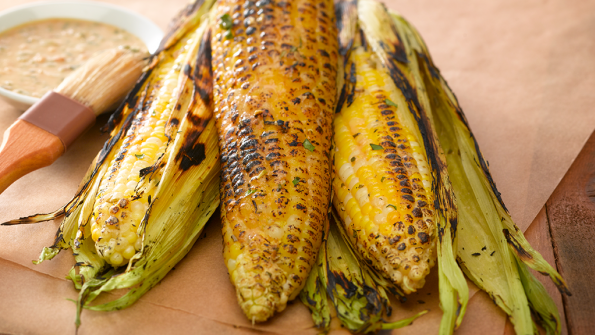 Place water and salt in a skillet; cover with a tight-fitting lid. Turn on high. When water is warm, put corn into pot and cover. Keep heat high until all water is gone, 4-8 minutes. (The time depends on many factors, so don't leave the room until water is gone.) Remove corn.

Mix miso, tahini, herbs, and lemon juice into a wet paste. Rub mixture onto cooked corn. Store until ready to grill. (This will keep, refrigerated, for several hours.)

Preheat grill. Cook corn until browned, crisped, or blackened to your taste, about 30 seconds with each turn.
Nutrition Facts
Grilled Corn
Amount Per Serving
Calories 108
Calories from Fat 27
% Daily Value*
Total Fat 3g 5%
Sodium 261mg 11%
Total Carbohydrates 20g 7%
Protein 4g 8%
* Percent Daily Values are based on a 2000 calorie diet.
PER SERVING: 108 cal, 3g fat (1g mono, 1g poly, 1g sat), 0mg chol, 4g protein, 20g carb, 3g fiber, 261mg sodium