This super-simple Persimmon Pie—a Southern favorite—has a rich, creamy texture with a minimum amount of fat. A scoop of pomegranate ice cream completes this unusual and beautiful dessert.
Get recipe for Light and Flaky Crusts.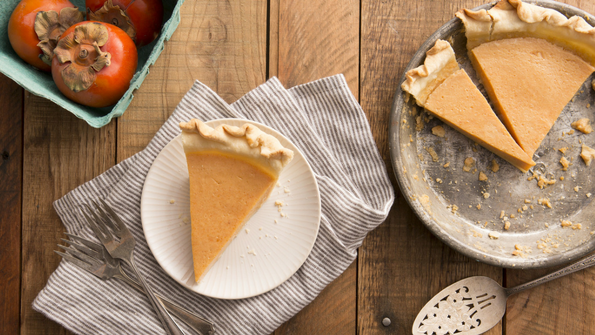 Preheat oven to 450°F. Quarter and, if necessary, seed persimmons. Scrape pulp from skins into a blender. Purée with lemon juice until very smooth.

In a medium bowl, beat together whole egg, egg white, and unrefined cane sugar. Stir in salt, milk, and persimmon pulp. Refrigerate for 5 minutes.

On a lightly floured surface, roll out pastry disk to make a 12-inch round. Fit into a 9-inch pie plate. Trim edge, fold under and flute decoratively.

Pour filling into crust. Bake for 10 minutes at 450°F, then reduce heat to 350°F. Continue baking for 30 minutes, or until filling is set and crust is golden. Cool on rack and serve warm or at room temperature.
Nutrition Facts
Persimmon Pie
Amount Per Serving
Calories 257
* Percent Daily Values are based on a 2000 calorie diet.
PER SERVING: Calories 257,Fat 8,Perfat 26,Cholesterol 46,Carbo 43,Protein 5,Fiber N/A,Sodium N/A