$0.41 per serving / Sweet fruits make wonderful desserts with minimal additional sweetener needed. You can substitute lime or pineapple juice for the orange juice.
Cardamom seeds, often available at Asian and Indian markets for mere pennies, are easy to manage. Remove the dark seeds from the green pods and place on a cutting board; crush them with the back of a wooden spoon to a powder. It's preferable if some bits are coarser than others because you'll get a sudden flavor zing when you bite down on the larger grains. Use cardamom in puddings, sauces, cooked grain dishes, and even beverages.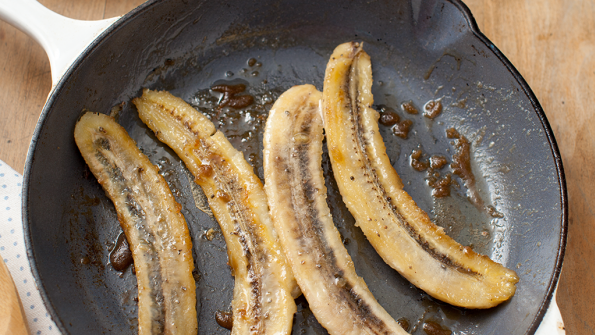 Combine brown sugar and cardamom thoroughly. Set bananas on a large plate, cut side up. Sprinkle sugar-cardamom mixture over bananas, pressing down gently to help mixture adhere.

Choose a skillet large enough to accommodate all banana pieces and place it over high heat. Add butter and swirl to coat pan. Add bananas, cut side down, and cook for 1 minute. While bananas are cooking, sprinkle with any remaining sugar-cardamom mixture. Turn bananas over and cook for 15 seconds more. Remove from skillet and divide among plates, with the browned cut sides up.

Pour juice into skillet; stir for about 10 seconds to collect any browned bits. Immediately pour over bananas and serve.
Nutrition Facts
Hot Spiced Bananas
Amount Per Serving
Calories 146
Calories from Fat 18
% Daily Value*
Total Fat 2g 3%
Cholesterol 5mg 2%
Sodium 2mg 0%
Total Carbohydrates 33g 11%
Protein 2g 4%
* Percent Daily Values are based on a 2000 calorie diet.
PER SERVING: 146 cal, 2g fat (1g mono, 0g poly, 1g sat), 5mg chol, 2g protein, 33g carb, 3g fiber, 2mg sodium