Serve this on pancakes or even toast. It's also delicious over roasted pork, chicken, turkey, or darker meats like duck.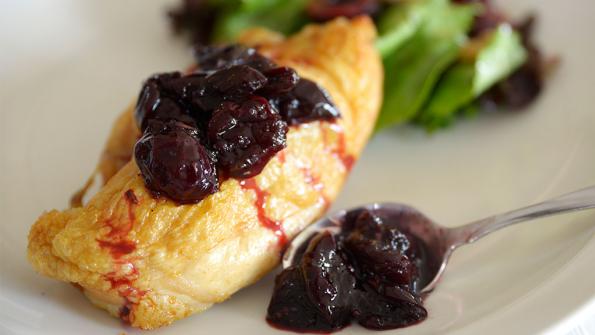 In a medium saucepan, combne all ingredients except vinegar. Bring to a boil. Reduce heat to low, cover, and simmer, stirring occasionally, until cherries are tender, about 15 minutes. Uncover and cook until liquid thickens a bit, 5 minutes.

Remove from heat and stir in vinegar. Salt and pepper to taste. Cool to room temperature.
Nutrition Facts
Cherry Compote
Amount Per Serving
Calories 157
% Daily Value*
Total Carbohydrates 41g 14%
Protein 2g 4%
* Percent Daily Values are based on a 2000 calorie diet.
PER SERVING (¼ cup): 157 cal, 0g fat (0g mono, 0g poly, 0g sat), 0mg chol, 2g protein, 41g carb, 3g fiber, 0mg sodium