You might want to make a couple extra of these Fire-Roasted Sweet Potatoes. As sweet potatoes cook, their sugars caramelize and ooze through the skins, combining with the smokiness of the fire for a completely addictive side dish.
Packing light
The oil in this recipe adds flavor by acting as a vehicle for smokiness; however, you can omit the oil if you prefer.
Fire-Roasted Sweet Potatoes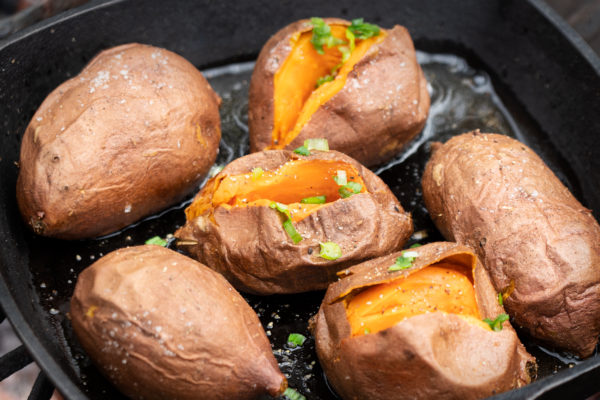 Gluten free, Vegetarian, & Dairy free
Coat each sweet potato in oil and place on grill grate over a medium flame for about 30 to 40 minutes, depending on the intensity of the heat. Rotate potatoes occasionally for even cooking.

Test with a fork. Each sweet potato should be softened and oozing caramel.

When serving, season with salt and pepper to taste, or dip in the juices from Fish and Asparagus en Papillote.
Per serving: 135 calories; 2 g protein; 3 g total fat (0 g sat. fat); 27 g total carbohydrates (9 g sugars, 4 g fiber); 41 mg sodium