The elegance of this Edamame with Ginger-Chili Dipping Sauce lies in its simplicity. Sweet, salty, spicy, and slightly smoky, it's everything you want to nibble on while enjoying a bright and zesty Green Tea Sipper.
Tip: Broil change
The edamame in this recipe can alternatively be cooked under the broiler. Place the edamame on a baking tray in a single layer. Broil, keeping an eye on them and stirring occasionally, until they're charred.

Edamame with Ginger-Chili Dipping Sauce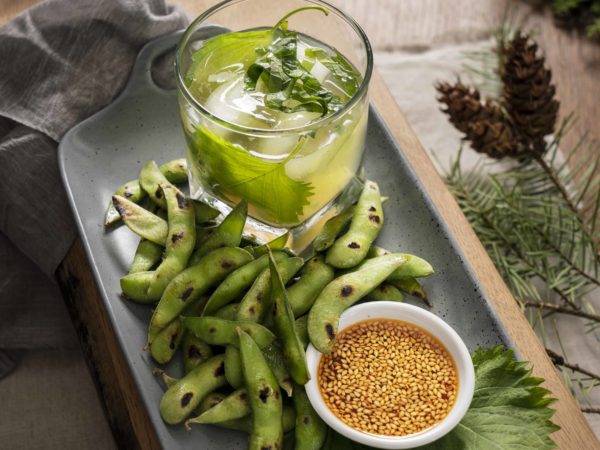 In small bowl, whisk together soy sauce or tamari, sesame oil, honey or agave, ginger, chili garlic sauce, rice vinegar, and sesame seeds. Set aside.

Heat cast iron skillet over high heat. Add edamame and cook, stirring often, until charred on both sides, about 6 to 8 minutes total. Serve warm on platter with dipping sauce.
Per serving: 106 calories; 7 g protein; 5 g total fat (1 g sat. fat); 9 g total carbohydrates (3 g sugars, 4 g fiber); 109 mg sodium