This tasty snack can be mixed ahead of time and munched on for several weeks. If you're sensitive to soy, substitute raw almonds or peanuts for the soy nuts.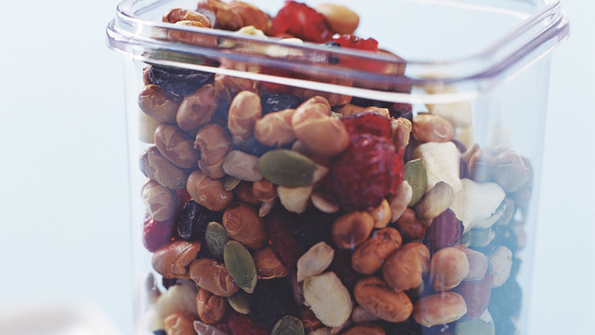 Thoroughly mix all ingredients. Store in an airtight container in a cool place.
Nutrition Facts
Soy Nut Trail Mix
Amount Per Serving
Calories 163
% Daily Value*
Sodium 8mg 0%
Total Carbohydrates 17g 6%
Protein 8g 16%
* Percent Daily Values are based on a 2000 calorie diet.
Per Serving (1/4 cup): 163 calories, 44% fat calories, 8g fat, 2g saturated fat, 0mg cholesterol, 8g protein, 17g carbohydrate, 4g fiber, 8mg sodium