Break away from heavy, creamy hot chocolate and go native! Before Europeans arrived on the scene in Mexico, chocolate was enjoyed dairy free. In this truly classic (and much healthier) hot chocolate, just a hint of old-world sophistication in the form of Earl Grey tea brings the two continents together. If you can't find pure orange oil, add about 1 teaspoon freshly grated orange zest to the tea and steep as usual. Strain out before serving.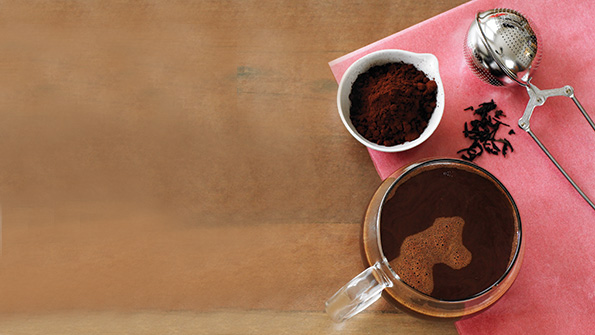 Place cocoa and agave in a heatproof pitcher. Place tea in a second pitcher or bowl and pour 2 cups boiling water over it. Steep for about 3 minutes. Strain over cocoa and agave nectar and add orange oil, if using. Whisk until slightly frothy. Pour into cups and enjoy at once.
Nutrition Facts
Earl Grey Hot Chocolate
Amount Per Serving
Calories 158
Calories from Fat 18
% Daily Value*
Total Fat 2g 3%
Sodium 10mg 0%
Total Carbohydrates 42g 14%
Protein 3g 6%
* Percent Daily Values are based on a 2000 calorie diet.
PER SERVING: 158 cal, 2g fat (1g mono, 0g poly, 1g sat), 0mg chol, 3g protein, 42g carb, 5g fiber, 10mg sodium