Makes about 3 cups / A refreshingly tangy version of the classic cranberry sauce. If you have any left over, use it as a dessert accompaniment over pumpkin pie, yogurt, or ice cream. This can be made three days ahead; keep chilled.
Staff Favorite, Gluten Free, Vegan, Quick
Cranberry-Pomegranate Relish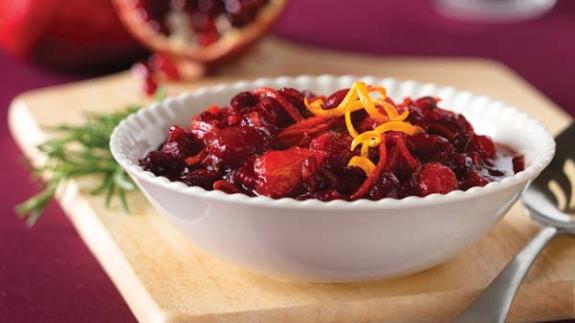 Combine cranberries, sugar, orange juice, and orange peel in a large saucepan. Stir over medium-high heat and bring to a boil. Reduce heat to medium; simmer until berries begin to burst. Turn heat to medium-low and cook another 10 minutes, stirring often. Mince rosemary leaves; then stir into sauce with orange segments and pomegranate seeds. Transfer to a small serving bowl. Cover and chill.
Nutrition Facts
Cranberry-Pomegranate Relish
Amount Per Serving
Calories 56
% Daily Value*
Sodium 1mg 0%
Total Carbohydrates 15g 5%
* Percent Daily Values are based on a 2000 calorie diet.
PER SERVING (1/3cup): 56 cal, 0g fat (0g mono, 0g poly, 0g sat), 0mg chol, 0g protein, 15g carb, 2g fiber, 1mg sodium