I love these two fruits combined, and they ripen in tandem only a month or so out of the whole year. I use multiple colors of heirloom tomatoes, including yellow tomatoes, to playfully confuse the eye because they are the same color as the peaches. Any combination will be delicious as long as the fruit is juicy ripe. It looks like tomato salad, but the peach is the surprise that everybody loves.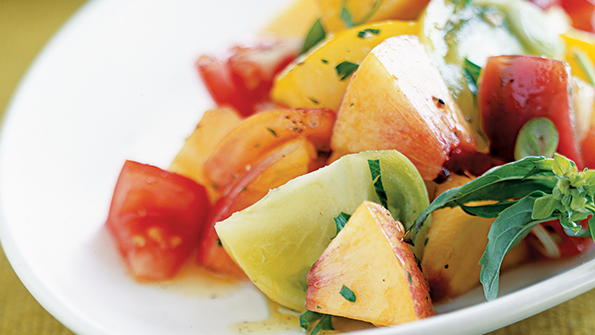 Gently combine tomatoes and peaches in a serving bowl. Add onion and basil and toss lightly. In a small bowl, mix olive oil, salt, and pepper. Drizzle over tomato mixture and toss with care.
Nutrition Facts
Peach and Tomato Salad
Amount Per Serving
Calories 91
% Daily Value*
Sodium 7mg 0%
Total Carbohydrates 7g 2%
Protein 1g 2%
* Percent Daily Values are based on a 2000 calorie diet.
PER SERVING: 91 cal, 66% fat cal, 7g fat, 1g sat fat, 0mg chol, 1g protein, 7g carb, 2g fiber, 7mg sodium