Mandelbrot, or mandel bread, is often called Jewish biscotti. Bake them until they're hard and crunchy to dip in coffee or tea, or bake a little less for a delectable soft-in-the-middle cookie. These keep for a few weeks in an airtight container.
Chocolate-Walnut Mandelbrot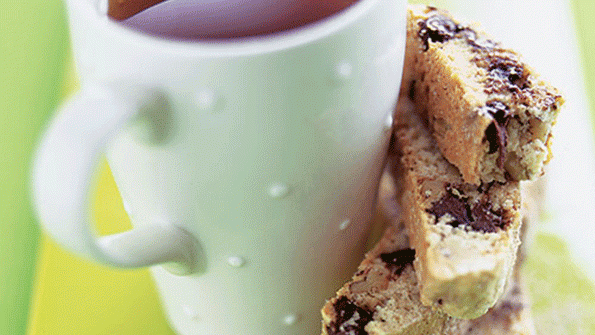 Preheat oven to 325º. Coat a large cookie sheet with nonstick cooking spray.

In a large mixing bowl, combine flour, sugar, baking powder, chocolate chips, and walnuts. In a separate bowl, blend eggs with vanilla and almond extracts. Make a well in the center of dry ingredients and add wet mixture. Mix until completely blended (you may have to use lightly floured hands).

Divide dough in half and shape into two loaves, about 3/4 inches high, 2 inches wide, and 12 inches long. Place on cookie sheet. Bake 35 minutes, until golden brown on the bottom. Remove from oven. Using a serrated knife and cutting board, cut dough crosswise on a slight angle into 3/4-inch-thick slices. Lay slices flat on the cookie sheet and return to oven for 5–10 minutes, depending on desired crunchiness. Remove from oven and turn cookies over; return to oven and bake 5–10 minutes more.

Sprinkle topping, if using, on both sides of cookies.
Nutrition Facts
Chocolate-Walnut Mandelbrot
Amount Per Serving
Calories 145
% Daily Value*
Cholesterol 27mg 9%
Sodium 43mg 2%
Total Carbohydrates 20g 7%
Protein 3g 6%
* Percent Daily Values are based on a 2000 calorie diet.
PER PIECE: 145 cal, 38% fat cal, 6g fat, 2g sat fat, 27mg chol, 3g protein, 20g carb, 1g fiber, 43mg sodium