A terrific party dessert. This method works with just about any dried fruit; we love apricot, mango, papaya, and pineapple. If you have leftover chocolate, pour it onto a piece of parchment paper, let it harden, and store in a plastic bag; melt again when needed.
Chocolate-Dipped Dried Fruit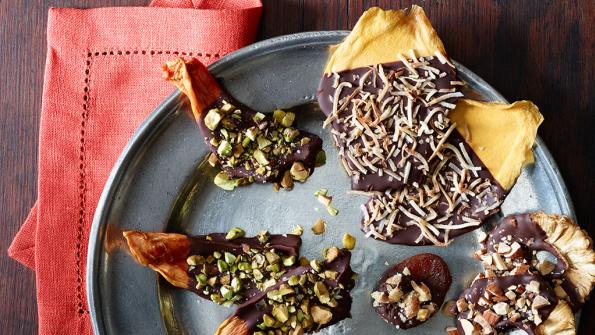 Break chocolate into a small saucepan and melt over very low heat. Place topping choice(s) into shallow dishes. Line a baking sheet with parchment or waxed paper.

Once chocolate is fully melted, remove pan from heat. Holding a piece of dried fruit by one end, dip into chocolate and swirl to ensure an even coating. Dip into coating of your choice. Place onto prepared baking sheet. Repeat with remaining ingredients.

Refrigerate for about 10 minutes to set chocolate. Store in refrigerator; let stand at room temperature a minute or two before serving.
Nutrition Facts
Chocolate-Dipped Dried Fruit
Amount Per Serving
Calories 270
Calories from Fat 36
% Daily Value*
Total Fat 4g 6%
Total Carbohydrates 8g 3%
Protein 1g 2%
* Percent Daily Values are based on a 2000 calorie diet.
PER SERVING (2): 70 cal, 4g fat (1g mono, 0g poly, 2g sat), 0mg chol, 1g protein, 8g carb, 1g fiber, 0mg sodium