What's camping without s'mores? Add more nutrients to the experience by stacking s'mores with sliced pineapple and flavanol-rich dark chocolate.
Pineapple & Dark Chocolate S'mores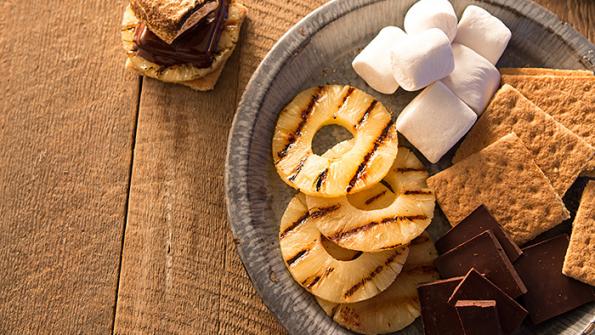 Grill pineapple disks on campfire grate until well-marked. Grill marshmallows on skewers to your desired doneness. On each graham cracker half, layer pineapple, chocolate, and marshmallow; top with another cracker. Eat 'em quick!
Nutrition Facts
Pineapple & Dark Chocolate S'mores
Amount Per Serving
Calories 196
Calories from Fat 45
% Daily Value*
Total Fat 5g 8%
Sodium 91mg 4%
Total Carbohydrates 35g 12%
Protein 2g 4%
* Percent Daily Values are based on a 2000 calorie diet.
PER SERVING (1 s'more): 196 cal, 5g fat (1g mono, 1g poly, 4g sat), 0mg chol, 2g protein, 35g carb, 3g fiber, 91mg sodium