This gluten-free recipe has a fantastic texture and zippy ginger taste. Make-ahead tip: The uncooked batter keeps in the refrigerator for several days, so you can make fresh, hot muffins any morning you feel like it. Ingredient tip: Turbinado sugar is similar to brown sugar but with a coarser texture. Makes about 2 loaves or about 16 muffins
Carrot and Ginger Corn Bread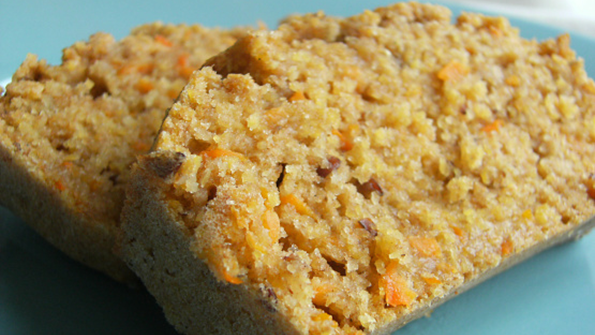 1

cup

sunflower oil

5

eggs

1

ripe banana, finely chopped

2/3

cup

turbinado (raw) sugar

2/3

cup

shredded carrot (1 medium-large carrot), finely grated

3/4

cup plus 3 tablespoons

white rice flour

1/2

cup

cornmeal

2

teaspoons

baking powder

1/8

teaspoon

salt

1

tablespoon

minced fresh ginger
1

cup

sunflower oil

5

eggs

1

ripe banana, finely chopped

2/3

cup

turbinado (raw) sugar

2/3

cup

shredded carrot (1 medium-large carrot), finely grated

3/4

cup plus 3 tablespoons

white rice flour

1/2

cup

cornmeal

2

teaspoons

baking powder

1/8

teaspoon

salt

1

tablespoon

minced fresh ginger

Print Recipe
Preheat oven to 350˚. In an electric mixer with paddle or in a large mixing bowl, combine oil, eggs, and banana. Add sugar and carrot; mix.

In a separate bowl, combine rice flour, cornmeal, baking powder, salt, and ginger. Add flour-ginger mixture to egg mixture and continue mixing until fully combined.

Lightly grease two 8 ½ x 4 ½ x 2 ½–inch loaf pans or about 16 muffin cups. For loaves, fill 2/3 of each pan with batter; for muffins, scoop about 1/3 cup batter into each cup. Bake until an inserted toothpick comes out clean, 25–30 minutes for muffins, 40–45 minutes for loaves.
Nutrition Facts
Carrot and Ginger Corn Bread
Amount Per Serving
Calories 1230
% Daily Value*
Cholesterol 66mg 22%
Sodium 90mg 4%
Total Carbohydrates 21g 7%
Protein 3g 6%
* Percent Daily Values are based on a 2000 calorie diet.
PER SERVING (1 muffin): 230 cal, 60% fat cal, 16g fat, 2g sat fat, 66mg chol, 3g protein, 21g carb, 1g fiber, 90mg sodium