In this easy yet impressive dish, fresh turmeric gives the fish a lovely golden hue. Make this recipe a complete meal by serving it alongside your favourite grilled vegetables.

Grilled Halibut with Turmeric, Garlic, and Olives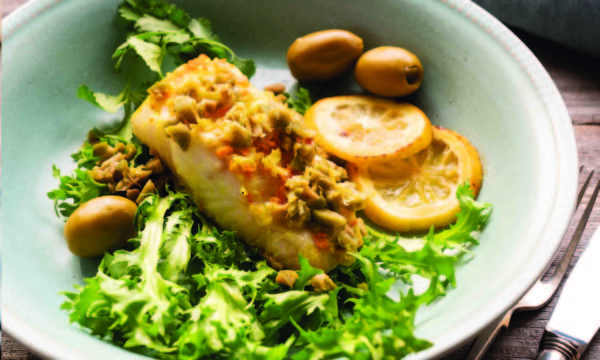 In large bowl, stir together garlic, oil, salt, and turmeric. Add halibut and toss until well coated. Set aside at room temperature for 15 minutes.

While halibut is marinating, preheat grill or a grill pan over medium heat.

Remove fish from marinade and place on hot grill. Grill fish, flipping once halfway through cooking, until golden brown and just cooked through, about 10 to 15 minutes total, depending on the thickness of your halibut. Transfer to platter and set aside.

In small bowl, with fork, mash olives with lemon juice and a good pinch of lemon zest. Spoon over warm fish and serve.
Tip: This recipe works equally well using any firm-fleshed fish such as salmon, or you could even try it with chicken thighs.