From Sarah Stegner, dining room chef, The Ritz-Carlton, Chicago. Stegner, a Chicago native, promotes a seasonally driven menu featuring top-quality produce from small, local farmers. She also helped develop Chicago's Green City Market, the city's only venue featuring regional, sustainable produce. For the harvest holiday, her natural pick is sweet potatoes. "Almost everybody has some form of sweet potato on Thanksgiving," she says. "This is a way of dressing it up and making it something special." The consistency of the purée should be very light, "not thick like mashed potatoes."
Twice-Baked Sweet Potatoes with Citrus and Mascarpone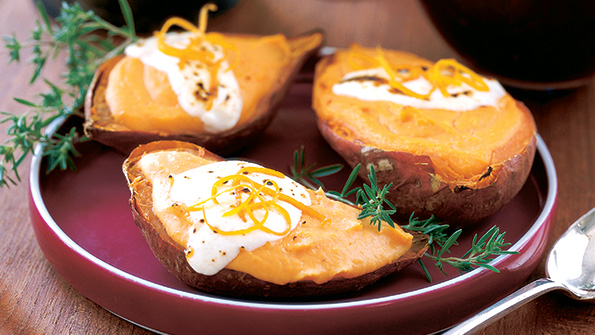 Preheat oven to 375º. Bake sweet potatoes until a fork can be inserted easily, about 1 hour. Cut potatoes in half lengthwise and carefully scrape pulp out of skins, leaving about 1/8 inch of potato lining the skin.

In a food processor, combine cooked pulp, orange juice, and 4 ounces mascarpone. Purée just until mixed. Add salt and white pepper to taste.

Refill sweet potato skins with purée. Heat through for 15 minutes at 375º. Preheat broiler. Dollop remaining mascarpone on top of each potato. Place underneath broiler just until mascarpone begins to brown. Watch carefully to avoid burning.

Using a fine zester, grate zest from one orange over potato halves and garnish with chopped chervil. Serve immediately.
Nutrition Facts
Twice-Baked Sweet Potatoes with Citrus and Mascarpone
Amount Per Serving
Calories 185
% Daily Value*
Cholesterol 31mg 10%
Sodium 21mg 1%
Total Carbohydrates 20g 7%
Protein 3g 6%
* Percent Daily Values are based on a 2000 calorie diet.
PER SERVING (1/2 potato): 185 cal, 51% fat cal, 11g fat, 8g sat fat, 31mg chol, 3g protein, 20g carb, 2g fiber, 21mg sodium