As if popcorn itself were not already an addicting snack, a dash of smoked paprika and cayenne pepper (both anti-inflammatory) make it irresistible. Using coconut oil instead of refined oils to cook at high temperatures is a healthy choice; it resists heat damage very well, and unlike other saturated fats, coconut oil is rich in lauric acid, which converts in the body to monolaurin, a potent antiviral, antimicrobial, antifungal compound. And it's delicious!
Gluten Free, Quick, Vegan
Spicy Popcorn with Smoked Paprika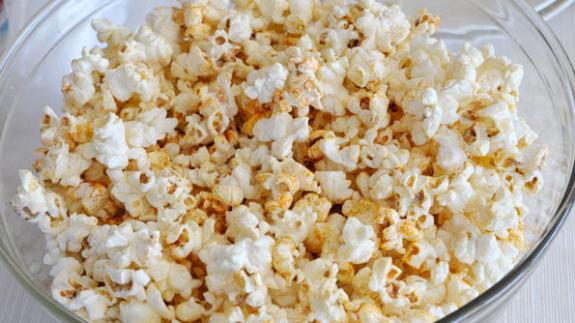 Combine smoked paprika and cayenne in a small dish; set aside

Place coconut oil in a large pot with a tight-fitting lid over high heat. Add popcorn kernels and cover. When popcorn begins to pop, grasp pot handles and lid with hot pads and shake to keep kernels on the bottom. Keep shaking until popping slows and nearly stops. Remove from heat, uncover, and pour popcorn into a large bowl.

Sprinkle paprika mixture over popcorn and immediately toss to coat. Add salt to taste and toss again. Serve at once.
Nutrition Facts
Spicy Popcorn with Smoked Paprika
Amount Per Serving
Calories 139
Calories from Fat 72
% Daily Value*
Total Fat 8g 12%
Sodium 1mg 0%
Total Carbohydrates 15g 5%
Protein 2g 4%
* Percent Daily Values are based on a 2000 calorie diet.
PER SERVING: 139 cal, 8g fat (0g mono, 1g poly, 7g sat), 0mg chol, 2g protein, 15g carb, 3g fiber, 1mg sodium