Instead of relying on french fries—typically loaded with trans fats—try this flavorful potato dish that uses a drizzle of monounsaturated olive oil for roasting.
Roasted Red Potatoes with Zucchini and Basil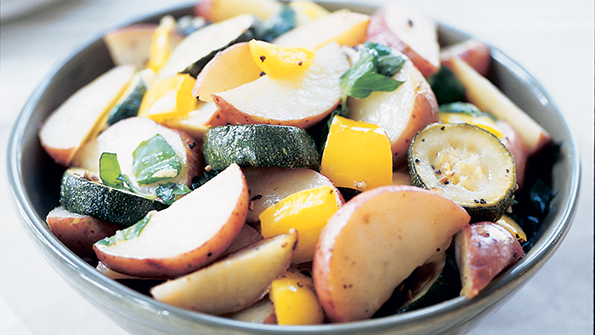 Preheat oven to 375°. Scrub potatoes and slice into wedges. Place in a 9x13-inch baking dish coated with cooking spray. Coarsely chop yellow bell pepper and place in baking dish.

In a small bowl, whisk together olive oil, lemon juice, pepper, and garlic. Pour over potatoes and yellow bell pepper; toss well. Bake 30 minutes.

Slice zucchini into thick circles. Add to baking dish, tossing to loosen and distribute ingredients. Bake for an additional 20 minutes. Remove from oven, add basil, and toss again. Cook until potatoes are crisp and tender, about 10 more minutes.
Nutrition Facts
Roasted Red Potatoes with Zucchini and Basil
Amount Per Serving
Calories 86
* Percent Daily Values are based on a 2000 calorie diet.
Nutrition Facts Per Serving:
Calories: 86 calories
% fat calories: 25
Fat: 2g
Saturated Fat: 0g
Cholesterol: 0mg
Protein: 2g
Carbohydrate: 15g
Fiber: 2g
Sodium: 6mg