Rhubarb Strawberry Collagen Jam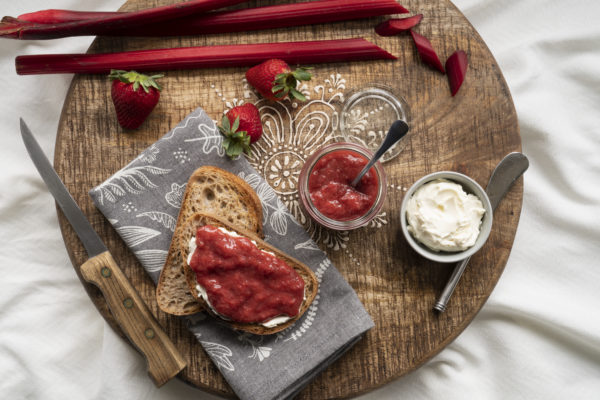 This simple condiment is perfect to jazz up your next meal. Whether you use it on toast paired with nut butter, drizzled on pancakes, dolloped on oatmeal, whisked into a salad dressing or stirred into yogurt as a snack, the possibilities are endless.
In medium saucepan, stir together strawberries, rhubarb, lemon juice and maple syrup over medium heat. Let mixture come to a simmer, stirring occasionally.

Once at a good simmer, let jam cook for 15 to 25 minutes stirring frequently. About halfway through cooking, break up fruit with a fork or potato masher.

Once jam has finished cooking, turn off heat and gradually whisk in collagen.

Transfer to a heat proof container and let cool to room temperature. Once cooled, cover and refrigerate for up to 1 week.

Makes about 2 cups (500 mL) jam.
Each 2 Tbsp (30 mL) serving contains: 26 calories; 1 g protein; 0 g total fat (0 g sat. fat, 0 g trans fat); 5 g total carbohydrates (4 g sugars, 1 g fibre); 8 mg sodium
TIP: For those who enjoy more unique tastes try stirring a few grinds of freshly ground black pepper into the jam along with the collagen. The pepper adds a pleasant spice to the jam and makes it perfect for serving next to your favourite dairy and non dairy cheeses.