Passion fruit's citrus notes, lightness, and tartness make it a great addition to black tea. "You can strain the pulp before serving, but I prefer to leave it in to let the edible passion fruit seeds show off," says Bailey-Roka. "I also add ice to the cups instead of to the pitcher to avoid diluting the flavors. This looks and tastes like sunshine in a cup!"
If you have trouble finding passion fruit pulp, substitute a chia drink, such as Mamma Chia Coconut Mango, Guava Mamma, or Cherry Lime; all provide the right tropical flavor, and the chia seeds mimic passion fruit seeds. Wait until the tea and honey have cooled, and then add the chia drink plus lime juice to taste.
Passion Fruit and Lime Tea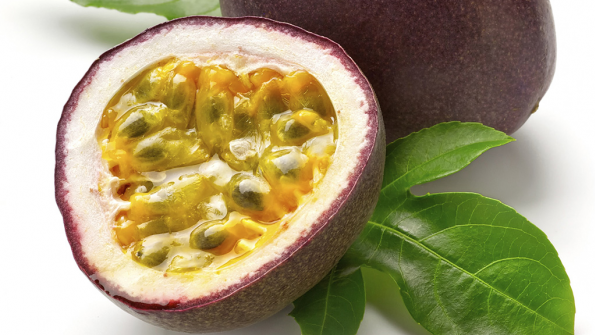 In a large heat-resistant pitcher, pour gently boiling water over tea bags and steep for no more than 4–5 minutes. Remove tea bags.

While water is still warm, add passion fruit pulp and honey. Stir until honey dissolves completely.

Let mixture cool to room temperature, add lime juice, and then refrigerate; if possible, leave overnight to let flavors marry. Serve in glasses over ice with sweetener to taste.
Nutrition Facts
Passion Fruit and Lime Tea
Amount Per Serving
Calories 122
% Daily Value*
Sodium 22mg 1%
Total Carbohydrates 31g 10%
Protein 2g 4%
* Percent Daily Values are based on a 2000 calorie diet.
PER SERVING: 122 cal, 0g fat (0g mono, 0g poly, 0g sat), 0mg chol, 2g protein, 31g carb, 8g fiber, 22mg sodium