Eastern medicinal practices have been incorporating mushrooms in healing elixirs for thousands of years. But here in the West, their resurgence as ultra-trendy diet aid has everyone adding mushrooms, their powders and extracts, into their everyday baking, beverages, and entrees.
Mushrooms are a hot topic of research, with scientists and medical professionals exploring their use in a myriad of health applications from stress to inflammation and even cancer.
If you want to incorporate mushrooms into your diet, though, there's no easier way than with our fabulous Dark Chocolate Mushroom Bliss Balls. Try them out, and you might just find your bliss!
There's plenty of yum in these bliss balls. We added mushroom powder to the mix as it contains a host of nutritional benefits. In this recipe, we upped the nutritional quotient using chaga mushroom powder. Its touted as a wonder food with numerous health benefits. There are other beneficial mushrooms available as a healthful powder that can also be used in this recipe.  

Dark Chocolate Mushroom Bliss Balls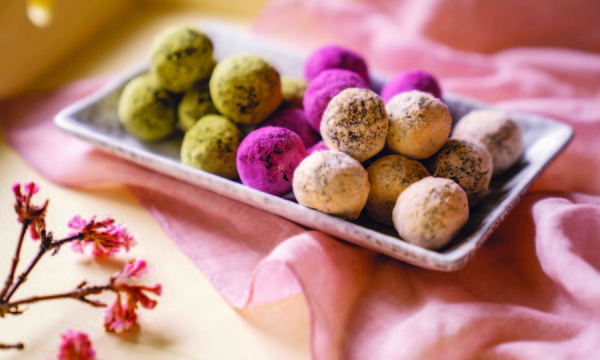 In food processor, pulse dates until they begin to break down. Add nuts and continue to pulse until crumbly.

Add melted chocolate, cocoa, mushroom powder, and coconut oil and pulse until mixture comes together in a ball.

Line an 8 in (20 cm) square pan with parchment. Using a 1 tsp (5 mL) measuring spoon, scoop mixture and roll into smooth balls, then place in single layer in lined dish. Place in freezer for 30 minutes or longer to firm. Can be eaten as is or rolled or dusted with colorful toppings.

Store in a tightly covered container in refrigerator for up to 2 weeks, if they last that long! Makes 36 bliss balls.
Each bliss ball contains: 44 calories; 1 g protein; 2 g total fat (1 g sat. fat, 0 g trans fat); 6 g total carbohydrates (5 g sugars, 1g fiber); 1 mg sodium
DIY mushroom powder: You can substitute other mushroom powder for chaga, if you wish. And, if mushroom powder is difficult to source, you can easily make your own.Purchase dried mushrooms such as shiitake, oyster, or portabello, to name a few. In a high-speed blender, grind into powder and use in your recipe. You can also sprinkle over roasted vegetables, into pasta sauces, risottos, stir-fries, and soups; or even over popcorn.
Bliss Ball Toppings: Place small sieve over small bowl. Sift 1 tsp (5 mL) matcha powder with 1 tsp (5 mL) cornstarch. Roll bliss balls in coating. Makes enough coating for about 12 balls.Repeat using 1 tsp (5 mL) beet powder and 1 tsp (15 mL) cornstarch and then again using 1 tsp (5 mL) blue pea powder with 1 tsp (5 mL) cornstarch.Other suggestions include rolling balls in cocoa, hemp hearts, chia seeds, or ground nuts. Or dip in melted chocolate and chill till firm.