Teas and herbal tisanes are popular throughout the Middle East. This blend of fresh spearmint and sage is particularly tasty, and provides the soothing and cooling benefits of mint with the medicinal properties of sage, including its ability to ease indigestion. Prep tip: For variety, substitute other fresh herbs, such as lemon balm and thyme.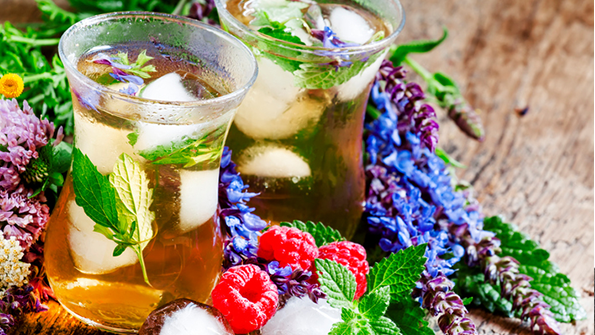 In a large teapot or hot-beverage carafe, place black tea bags and sage leaves. Pour boiling water into pot, and steep for 7–8 minutes. Remove bags and leaves. Add honey and lemon juice, stirring to dissolve.

Place 2 mint leaves in the bottom of each heat-proof glass or mug. Using a spoon or pestle, bruise leaves against the bottom of the mug to release aromatic oils. Pour tea over the leaves. Add more honey or sweetener of choice to taste, and stir to blend flavors. Serve hot or chilled.
Nutrition Facts
Minty Sage Herbal Tea
Amount Per Serving
Calories 26
% Daily Value*
Total Carbohydrates 7g 2%
* Percent Daily Values are based on a 2000 calorie diet.
PER SERVING: 26 cal, 1% fat cal, 0g fat (0g mono, 0g poly, 0g sat), 0mg chol, 0g protein, 7g carb, 0g
Back to Recipes for peace.