A crunchy treat, these chickpeas (garbanzo beans) are deliciously hard to resist. Chickpeas are naturally full of protein, fiber, and antioxidant phytonutrients, so they make snacking downright healthy.
Maple-Cinnamon Roasted Chickpeas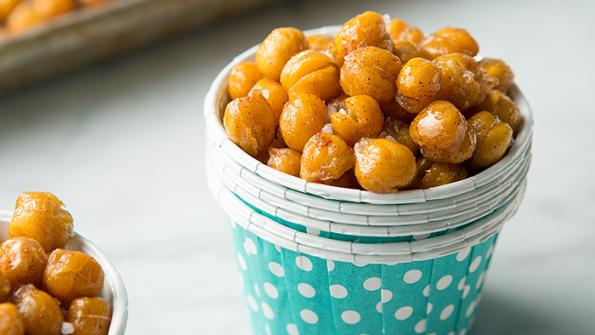 Line a rimmed baking sheet with parchment paper. Set aside.

Rinse and drain chickpeas in a colander. Spread onto several towels to dry, rubbing gently with the towel to help dry and to remove some of the outer skins (don't worry if they don't all come off).

Once chickpeas are totally dry, transfer to rimmed baking sheet and place into a cold oven. Turn heat to 400° while the chickpeas are inside; this helps them dry out more before baking. When oven temperature reaches 400°, set timer for 13–15 minutes.

After 15 minutes, remove sheet from oven and drizzle chickpeas with olive oil and maple syrup; sprinkle with salt. Roll peas around with a rubber spatula so all surfaces are coated. Sprinkle with cinnamon and roll peas again until thoroughly coated. Return to oven and bake for 15 minutes more.

Turn off oven and leave door cracked for 30 minutes. Remove baking sheet and let cool completely on a wire rack. Store in a sealed container at room temperature.
Nutrition Facts
Maple-Cinnamon Roasted Chickpeas
Amount Per Serving
Calories 184
Calories from Fat 36
% Daily Value*
Total Fat 4g 6%
Sodium 264mg 11%
Total Carbohydrates 30g 10%
Protein 6g 12%
* Percent Daily Values are based on a 2000 calorie diet.
PER SERVING (1/2 cup): 184 cal, 4g fat (3g mono, 1g poly, 1g sat), 0mg chol, 6g protein, 30g carb, 5g fiber, 264mg sodium