Makes 3⁄4 cup/prep 10 minutes
The classic. increase or decrease each ingredient according to your taste. If you like, add a little minced roasted red bell pepper or red pepper flakes for a hint of color. When you've got a bumper crop of basil, make and freeze extra in small zip-top bags or ice-cube trays to add a burst of flavor to marinara sauces, soups, and stews.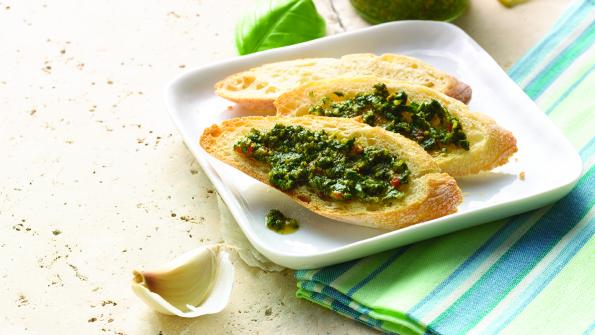 Place all ingredients except cheese in a blender or food processor and process until smooth. Transfer mixture to a medium bowl and stir in cheese. Serve or refrigerate for up to three days. (Cover with a thin layer of olive oil to prevent browning.)
Nutrition Facts
Basil Pesto
Amount Per Serving
Calories 133
Calories from Fat 36
% Daily Value*
Total Fat 4g 6%
Cholesterol 1mg 0%
Sodium 76mg 3%
Total Carbohydrates 1g 0%
Protein 1g 2%
* Percent Daily Values are based on a 2000 calorie diet.
PER SERVING (1 tablespoon): 33 cal, 4g fat (2g mono, 1g poly, 1g sat), 1mg chol, 1g protein, 1g carb, 0g fiber, 76mg sodium