This refreshing, spicy, homemade ginger ale tastes wonderful even without the ice cream. Canned cherries will work in a pinch, but take advantage of summer's crop by getting kids to pit fresh cherries with a hairpin or cherry pitter.
Ginger-Cherry Ice-Cream Sodas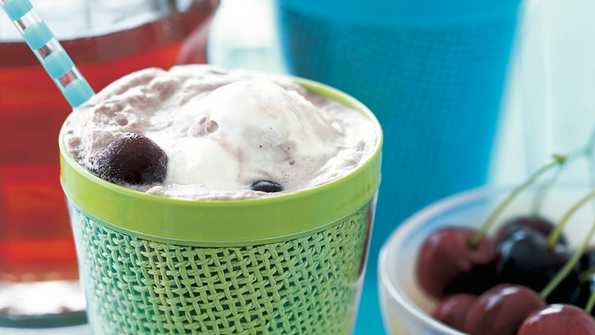 In a medium saucepan, bring ginger, water, juice, and sugar to a boil. Reduce heat to a rolling simmer and cook until reduced by half, 25–30 minutes. Strain; discard solids. Refrigerate liquid.

Place about 2 tablespoons sorbet and 2 tablespoons ice cream in eight 8-ounce plastic cups. (Store in freezer until you're ready to serve.) Just before serving, combine ginger-cherry juice with sparkling water. Place 1/4 cup cherries in each glass. Fill with ginger-cherry mixture and serve.