Is a juice or smoothie better? The two drinks do different things. "A juice is like getting an intravenous shot of nutrition," says Odenweller. "One 16-ounce glass can contain up to 3 pounds of fruits and vegetables—it would be hard to eat all that. So juicing is an easy way to get more than your daily dose of healthy goodness." Just don't overdo the fruit or you could experience blood sugar spikes. Also, because most of the fiber gets left out, juices won't stick with you the same way a smoothie will. But for a concentrated nutrient hit, if you've got a juicer, try this delicious combo.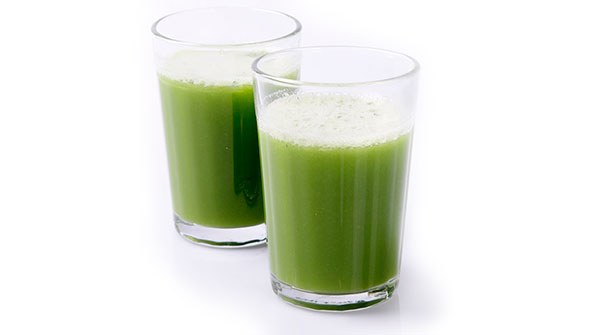 Process everything in a juicer (except lime) in the order listed. Stir in lime juice and salt. Serve.
Nutrition Facts
Digestion-soothing juice
Amount Per Serving
Calories 75
% Daily Value*
Sodium 74mg 3%
Total Carbohydrates 18g 6%
Protein 2g 4%
* Percent Daily Values are based on a 2000 calorie diet.
PER SERVING (1 cup): 75 cal, 0g fat (0g mono, 0g poly, 0g sat), 0mg chol, 2g protein, 18g carb, 5g fiber, 74mg sodium