This breakfast drink works well for those who have a hard time eating breakfast. It's zesty, refreshing, light and healthy, and you can vary it with any fruit or vegetables you have on hand.
(staff favorite)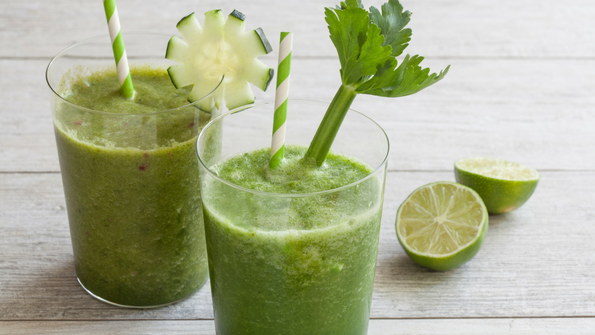 Add ingredients to a blender in the order listed. Blend, starting with low power and increasing to high, until smooth.
Nutrition Facts
Healthy Green Elixir
Amount Per Serving
Calories 857
% Daily Value*
Sodium 13mg 1%
Total Carbohydrates 15g 5%
Protein 1g 2%
* Percent Daily Values are based on a 2000 calorie diet.
PER SERVING (8 ounces): 57 cal, 0g fat (0g mono, 0g poly, 0g sat), 0mg chol, 13mg sodium, 15g carb (2g fiber, 9g sugars), 1g protein
Time-saver: Combine the water, lime and pineapple the night before; add all greens in the morning.